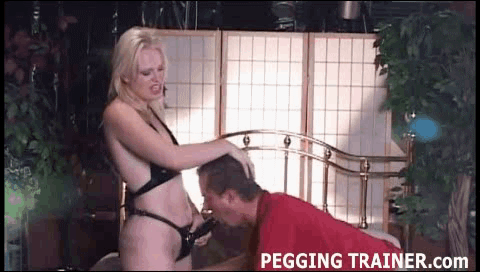 share gif:

You've wanted this fantasy to become a reality for such a long time. Now is your moment: are you ready to get pegged by a beautiful blonde dominatrix?

Come on over to the bed and lay down for me. I want you to worship this big black cock like your life depends on it. Work that shaft with your mouth and get it all nice and wet for me. Remember that this is going to be inside you in a second, so ensure that you get as much saliva on it for lubrication. You certainly don't want me to peg you dry!

Okay, now turn around and show me that little ass of yours. Oh my, I bet you've never even had so much as a finger inside your butt before. That beautiful rear should be up in the air and begging for my big strapon. Now beg like a little slut until I finally decide that you're allowed to accept my big fat cock inside your stupid pathetic ass.