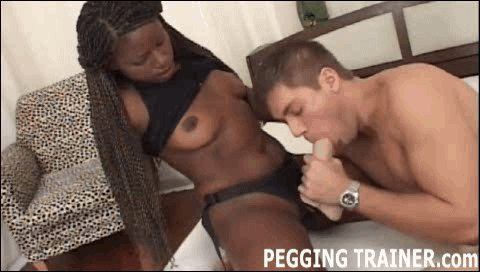 share gif:

Word on the street is that you love getting pegged by black women using huge strapons. Is that true, you little sissy interracial bitch?

Don't worry white boy - your secret of loving the fact that this ebony beauty fucks you in the ass with a strapon is totally safe for the time and being. I want to use and abuse that asshole of yours as much as possible over the coming days, so the less that the sistas know about your dirty little pegging desires, the more time I have to give you the strapon session of a lifetime.

Your asshole puts up some initial resistance to begin with, but as soon as I calm you down and convince you that you're a hungry sissy, that butt enjoys every second and opens wide for the big dildo I've got. If you think the fact that you love getting rammed in the ass is an assault on your masculinity - you're quite right. It's okay though, because I'm willing to treat you like the woman you've always wanted to be.