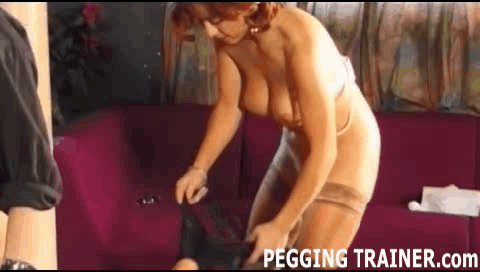 share gif:

A promise is a promise no matter how much you regret it. Bend over, bite your tongue and prepare for your ass to get fucked by a pegging beauty.

You need to be taught a lesson in how to take it in the ass, so do me a favor and prepare that butt of yours for invasion. I've never been this horny for a pegging session before, but there's something about your obvious submissiveness that drives me over the edge. I sure as hell hole you're keep to have this big plastic dildo deep in your ass.

It feels so good for me to be doing the plugging for once! Sure, being a female is great, but now I appreciate just how much fun guys have. By the look on your face, you also seem to enjoy the fact that you're experiencing the other side of the coin. Your butt is super tight and looks fantastic with this shaft inside of it. We can arrange more strapon sessions in future - I can see how much you love being pegged like a sissy.